Categories: Virtual Events
Zoom Webinar | Link to be provided
---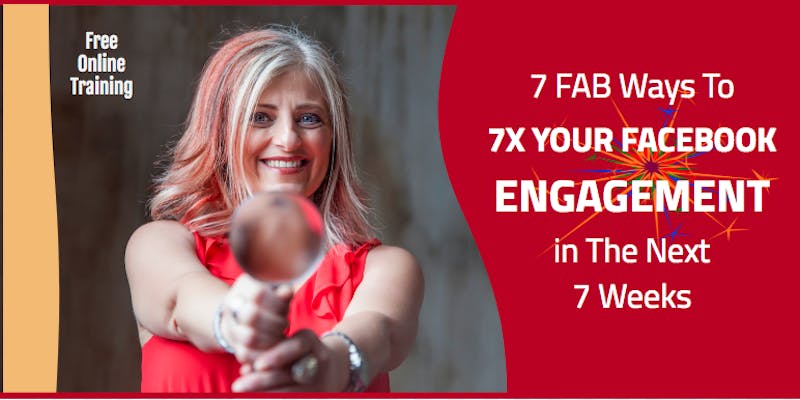 Let's face it, getting your message out on Facebook can be frustrating at times.
When you put in time and end up with crickets or poor engagement, you're left feeling invisible.
And then you wonder why you're even bothering or whether this is even worth your effort…
But it doesn't have to be this way.
There are tons of little things, tricks and hacks you can do to help you break out of that cycle.
Please join me for this free training to learn 7 actionable steps you can take in the next 7 weeks to 7x your engagement on Facebook.
3 small tweaks you can make to your profile to help you show up more powerfully
A quick review of tips and to help you connect and grow your Facebook audience
Week-by-week action plan with specific steps you can take to let your brand shine on Facebook
Whether you're in the early stages of building your business and want to start connecting with others on the world's largest social network – or a more seasoned entrepreneur who is ready to ramp up your presence on Facebook – I guarantee that you'll learn a few things that will help you get traction and visibility.
Stop throwing spaghetti against the wall to build your Facebook audience
We will also have time for Q & A at the end so I promise that all of your questions will be answered.
The following two tabs change content below.
Katia Millar is the Founder & Chief Inspirational Officer of Positive Fabulous Women. She's also a mentor, speaker, connector and visibility strategist with a mission to support women to show up, connect and shine their light so that they can do what they love & love what they do. Over the past 10 years, Katia has gone from being an overwhelmed, under-employed single mom with virtually no connections and no sense of purpose to creating a juicy life, building a solid brand, hosting 350+ events and growing a network of over 15 thousand. Katia has appeared in the Globe & Mail, SiriusXM, The Women's Post, Chloe Magazine, Rogers TV, Extraordinary Women TV and has spoken to numerous local and national audiences both on stage and on camera. In addition, Katia has travelled to over 25 countries and considers herself to be a global citizen and bon vivant who is passionate about making a difference in the world.
Latest posts by Katia Millar (see all)