Categories: Toronto Events
The Sony Centre
1 Front St E, Toronto, ON M5E 1B2, Canada
---
This annual gathering of 3,000 mission-driven entrepreneurs, leaders, and professionals who want to do well by doing good. 100% of the proceeds are being gifted forward to The Archangel Fund, which is used to provide micro-loans and donations to entrepreneurs and charities making the world a better place.
This is an event like no other.
Register using my exclusive promo code "FABKAT" and receive a special discount, reserved group seating and access to a special post-event dinner.
If you're still on the fence, here are 7 FABULOUS reasons why you need to join…
#7 – THE SPEAKERS
Archangel Summit attracts the world's best when it comes to speakers. This year's line up includes Simon Sinek (author of Start With Why), Danielle LaPorte (author of Desire Map and White Hot Truth), Lewis Howes (author of The School of Greatness and top podcast with the same name), Daymond John (investor and star of the hit TV show Shark Tank), Dr. Shefali Tsabary (Oprah's mindset expert), Jim Kwik (brain optimization and memory expert), and many more.
#6 – THE WISDOM
So much of the wisdom shared will be tactical and strategic, with many takeaways to help you on your journey. And the topics are typically 50/50 business-development and self-development – from mindset, lead generation, sales, leadership, packaging your wisdom, marketing, startups, publishing a best-seller, starting a movement, building a tribe, discovering your purpose, alignment, optimizing your health and more – you will learn from the best of the best to become the best version of YOU, without the fluff and sales pitches of traditional conferences.
#5 – THE TRIBE
While people often show up for the wisdom, what they leave with is a new family and community of like-minded entrepreneurs who want to support their mission and growth. The relationships start at the Summit, and last throughout the year with monthly live meetups, virtual calls, and so much more. Entrepreneurship can be super lonely. The rest of the world doesn't 'get' us. If you want to succeed, you NEED to surround yourself with like-minded and like-hearted individuals who want to see you win, and that's what you get when you show up.
#4 – THE IMPACT
Attending this event means you're supporting the Archangel dream of changing the world. 100% of the proceeds from the event are gifted forward to various causes like WE.org – and this fall Archangel is launching a micro-loan program for members of the Archangel community who need funding to grow their businesses and achieve their missions.
#3 – THE TRANSFORMATION
The best investment you can ever make isn't real estate, or stocks – it's YOU. It's taking a day to work ON your business, and ON yourself. A day to invest in your own development, in an environment carefully created to help you grow in every way. You will leave this event feeling recharged, with a greater sense of purpose, and ready to take on the world. We've had hundreds of stories pour in from last year's attendees in terms of their own personal transformations – from quitting their jobs, starting their dream businesses, exploding through revenue goals, massive impact through philanthropic efforts, personal health and fitness transformations, new personal and business relationships, and so much more. This event will be the catalyst and milestone for so much exponential growth in your business and in your life.
#2 – THE EXPERIENCE
Archangel Summit isn't a typical, boring, business conference. The producers treat the event as an immersive 'show', where you get to be a part of the experience. You will be energized from start to finish with stunning visuals, music, a live performance by Grammy-nominated recording artist AKON, and many mind-blowing surprises. You will create and have memories that will last a lifetime.
#1 – THE MISSION
The Archangel mission is to support the dreams and missions of people like you – superhero, mission driven entrepreneurs, game changers and leaders that want to create positive impact in your community and in the world. Imagine being able to share your dreams with people who will believe in you, who won't put you down, who want to see you succeed, and want to help make your mission a reality. THAT'S who shows up to Archangel Summit.
WATCH THIS VIDEO
Check out this short 2-minute highlight reel video from last year's event where Archangel founder Giovanni Marsico shares why he created this colossal event and why you should attend: https://vimeo.com/223971005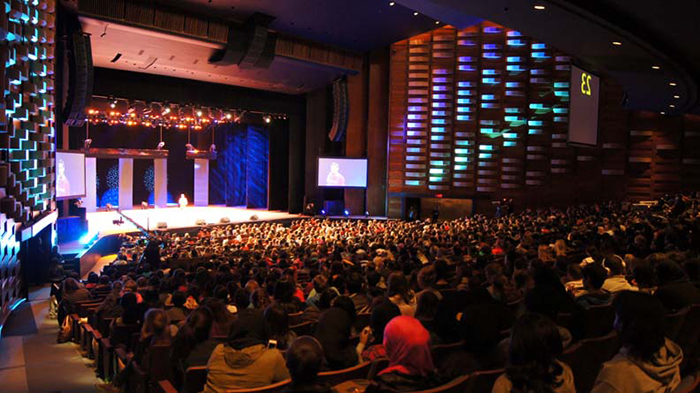 The following two tabs change content below.
Katia Millar is the Founder & Chief Inspirational Officer of Positive Fabulous Women. She's also a business + visibility strategist for visionary entrepreneurs, experts and coaches. She specializes in helping you get your message out and be seen & heard by your tribe so that you can do what love & love what you do. You can connect with Katia every Thursday on the #PFWChat on Twitter at 11 am ET, or via one of her social links.
Latest posts by Katia Millar (see all)