Categories: Toronto Events
117 Peter St #202, Toronto, ON M5V 1X1, Canada
---
This event is organized by Yulia Urukova Martins, Community Manager for Positive Fabulous Women | Toronto.
★✩★✩★✩★✩★✩★✩★✩★✩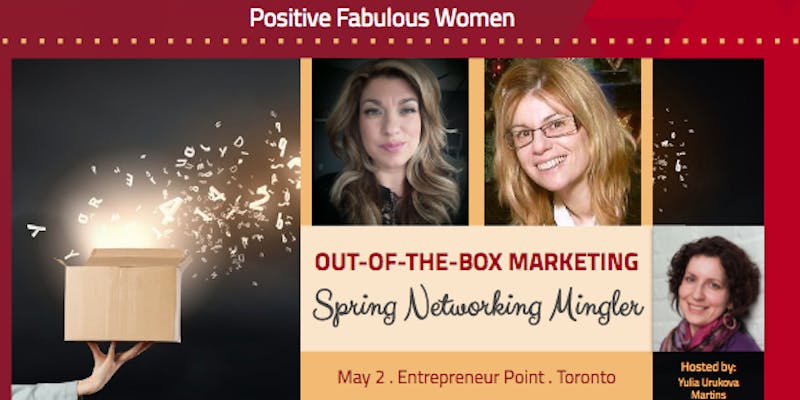 Successful businesses and leaders have one thing in common: their names come top of mind when people think about their particular industries. When you are developing your marketing strategy, how do you ensure you will stand out?
Please join us on May 2 for an evening of networking + connections with other passionate, creative Toronto women business owners.
You will hear from two fabulous speakers Gina Hatzis and Vessey George, MBA about their "out of the box" marketing strategies- and learn valuable tips, pointers and shortcuts on how to express your personal and business brand and bring value to your audience – and how this can make all the difference in growing your business.
In addition, we will also have introductions, a facilitated interactive activity, complimentary appetizers and plenty of time for you to soak in the positive vibes and connect with the amazing women in the room.
This is a fabulous opportunity to touch base with friends and expand your network – so feel free to bring along your friends and colleagues interested in growing their business and meeting other passionate, supportive women entrepreneurs!
When: Wednesday May 2, 2018 | 6:00 pm-9:00 pm
Where: Entrepreneurs Point | 117 Peter Street, #202-203, Toronto
Tickets: Early-Bird by April 15: $15 | Regular Pre-Payment: $20 | Cash at the door: $30
The following two tabs change content below.
Master-User
It's time to SHOW UP in your life and business, CONNECT with other like-minded women for friendship and networking - so that you can SHINE your light brightly onto the world. ✮ Download a FREE copy of our PFW Manifesto Today => http://positivefabulouswomen.com/manifesto-landing/ ✮
Latest posts by Master-User (see all)